There are a few neat little things I've run across as I worked this fall and winter that made my life a bit simpler as I navigated the trenches of documentary television. Runtime for iPhone was one of them.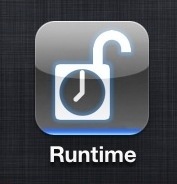 Runtime on the App Store $1.99
Runtime is a great take on that most reliably needed tool, the timecode calculator. Time was, these were hardware, and kind of expensive. Like the blue Portabrace gear the field crew drags everywhere (though apparently the new stuff is black?), post production professionals likely had a FrameMaster from Calculated Industries on the desk somewhere. They were pricey.
A post-super or AP might need a timecode calculator to total up an archive order. But for editors, there are two main reasons we use these specialized calculators. One reason is calculating offsets – maybe you sent a cut out to an FX house or composer, and kept editing. Now they've sent back notes which refer to your edit from 4 days ago. If you can figure out the difference, it's easy to get the old timecodes to line up to new ones. Many moons ago I wrote a timecode calculator for PalmOS which focussed on making this kind of work easy.
And now, editor Geoff Gruetzmacher has come up with something purpose built for another task we do over and over again: timing out a show. That is, getting the acts all to be the correct length so that they add up to the exact length needed to deliver the show to the network. And while Runtime won't help with offsets or adding up a list of shots for an archive order, it does a much better job of handling the job of getting a show to length than a traditional calculator does.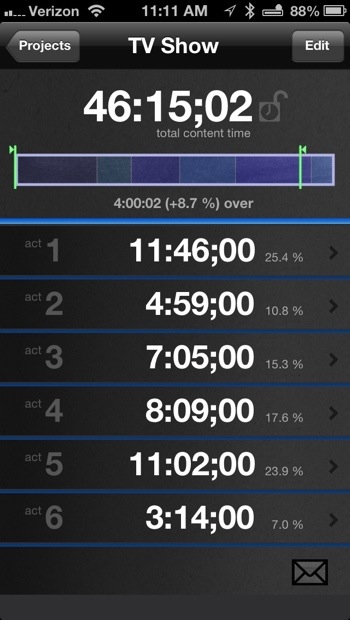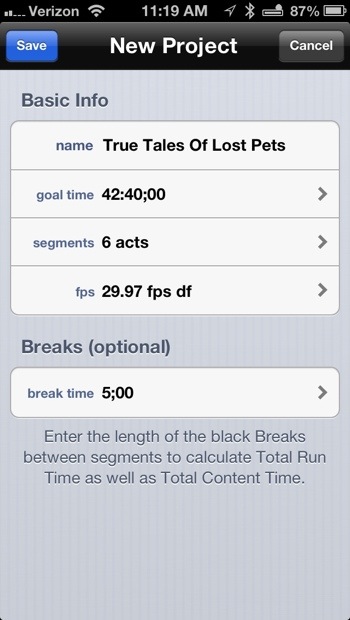 You create a project, set the frame rate and target time, as well as the number of acts for your show, and if you like, the time you'll be adding to the final timeline for your act breaks. Then, just enter the current run time for each act. The app will tell you how much over or under you are, and remember those act lengths until you change them, so you're not constantly adding the times together after each set of revisions to one of the acts.
The icing on the cake is that it also creates a text report on the lengths which you can email to others on your team. This is something I found that writers and producers like a whole lot. Here's an example of those reports:
TV SHOW EPISODE
Current Total: 46:15;02
Goal Total: 42:15;00
4:00:02 (+8.7 %) over
---
act 1 – 00:11:46:00 (25.4%)
act 2 – 00:04:59:00 (10.8%)
act 3 – 00:07:05:00 (15.3%)
act 4 – 00:08:09:00 (17.6%)
act 5 – 00:11:02:00 (23.9%)
act 6 – 00:03:14:00 (7.0%)
---
generated by Runtime
http://runtimeapp.tv
The info in the report is clearly presented, and the app is easy to use as it's focussed on getting to the goal. I like this one a lot; it's not on the home screen of my phone, but it's on the top of the second page, ready for quick access. Runtime is just flat out better than the old way.